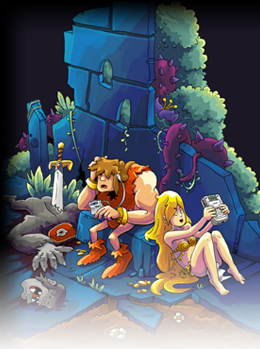 It's a free update to Tiny Barbarian DX that doubles the amount of included content. If you already own Tiny Barbarian DX, just download the latest version of the game. If you bought it through our website, you can access it from the Humble Shop Key Resender.



Get the Soundtrack at Bandcamp!
Minimum Recommended Hardware: Operating system: XP/Vista/Windows 7 // Processor: Dual-core processor (Intel Dual Core 2.0 GHz or AMD Athlon X2 5200+ 2.6 GHz) // Memory: 1GB // Hard disk space: 50 MBs // Video: DirectX 9.0c compatible, PixelShader & Vertex Shader 1.1 // Sound: DirectX 9.0c compatible sound cards // DirectX®: 9.0c compatible // .Net FrameWork 4.0

Q. What is Tiny Barbarian DX?
Tiny Barbarian DX is an action game for Windows PC and Mac, inspired by sword and sorcery fiction such as Conan the Barbarian or Fafhrd & the Grey Mouser. Besides being a thrill-a-minute Sword-'em-Up (or "swup"), the game is broken down into unrelated episodes, just like the old fantasy stories in pulp magazines.
Q. What's this about episodes?
Each episode is its own self-contained adventure with a new setting, new enemies, and new music. Each episode will be released as an update to the original game, so if you own the game, additional episodes can be considered free "DLC." There are two episodes currently released, with a total of four planned.
Q. I bought the game earlier and a new episode is out. How can I get it?
Just download the latest version! If you bought it through our website or the Humble Shop, log in to you Humble account and find your download page. If you don't remember your account details (or never made one!) you can use the Humble Shop Key Resender to get a link to your download page. If you have it on Steam, the new version will update itself automatically.
Q. Where can I get current updates on future episodes as they develop?
Please check our Facebook or follow us on Twitter for the latest posts regarding development.
Q. Wasn't there a free game called Tiny Barbarian?
The original Tiny Barbarian served as a prototype or "proof of concept" for TinyB DX. DX has a wider range of moves, smoother gameplay, enemies that can be juggled, mounts, more bosses, more music, and is just generally better in every way. You can still get the original game here, although it is not a demo--the new game has a number of new features and different system requirements.